Led strips
Wedoo Led offers you an incomparable diversity in the field of led strips.
Thanks to a dynamic R & D team, we regularly offer you the latest news to satisfy the most demanding of you.
ultra-low consumption led ribbons, wall washer led strips, black light, infrared illumination, sterilization tape, hydroponics, ultra-powerful ribbons ...
At Wedoo Led you will find the best choice in Europe, directly from the latest Led technologies, with a 3 to 5 year warranty on all our products.
All of our strips are sold singly or as complete kits.
Which led strip to choose ?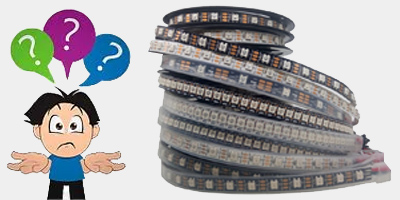 As you can see, there are a multitude of led strips.
To help you quickly and easily choose the one that best suits your needs,
follow our guide: How to choose a led strip.
The different types of existing led strips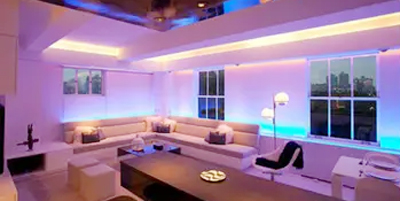 The different categories of led strips
LED strips offer a versatile and energy-efficient lighting solution for many applications, ranging from decorative lighting to technical lighting. Here are some examples of LED strips available on Wedooled:
LED strips for mood lighting

Practical and economical solution to create a pleasant atmosphere in any room of your home. They are easy to install and can be used to accent decorative elements in your home, such as furniture, bookcases, niches, walls and ceilings.
LED mood lighting strips are available in a wide range of colors and styles to suit all tastes and needs. You can choose plain LED strips for discreet and elegant lighting, or opt for LED strips with dynamic effects to add life and fantasy to your interior.
There are also mood lighting LED strips that can be controlled remotely via an app on your smartphone, Google Assistant or Alexa. This allows you to easily change the color and intensity of the lighting to suit your mood or the occasion.
It is important to note that LED mood lighting strips are not intended to be used as the main source of lighting in a room. Rather, they are meant to be used alongside other light sources to add a splash of color and style to your interior.
Type of led used: SMD3528 in 12V
LED lighting strips

They are a versatile and energy efficient solution for many applications, including lighting a room, living room, kitchen, patio, hallway and patio. bedroom. They are easy to install and can be used to provide ample light in these spaces.
For the lighting of a room, you can use LED strips on the ceiling or on the walls, ideally in indirect lighting (light directed towards the ceiling), to provide a consequent light intensity for main, diffuse and pleasant.
In the kitchen, they can be used to illuminate the entire room, worktops and sinks, which can be particularly useful when cooking or cleaning.
On the terrace, they will be very useful for illuminating relaxation areas or dining areas with sufficient and well-distributed light, which can be particularly pleasant when you receive guests or spend time outdoors. outside in the evening.
In the bedroom, they can be used to illuminate the walls or the ceilings. You can also use LED strips to light up the reading corner or to create a soothing atmosphere before falling asleep, simply by reducing the brightness or selecting a color appropriate to your cocooning space.
Type of LED used: SMD3528 in 12 or 24V
RGB multicolored LED strips

This is a lighting solution to create a warm and colorful atmosphere in your home. These LED strips feature red, green and blue LED diodes that can be combined in different ways to produce a wide range of colors including white.
There are many ways to use multi-color RGB LED strips to create a unique ambience in your home. You can for example:
Install multicolored RGB LED strips under a bed, under furniture, shelves or cupboards to highlight your decorative objects and add color to your interior.
Use them to illuminate the walls or ceilings of your living room, bedroom or bathroom. It can add warmth and life to these rooms.
Create an atmosphere filled with colors on your terrace or in your garden by installing them on the walls or structures of your exterior. This can be especially nice when you have guests over or spend time outdoors in the evening or by the pool.
Add color and life to your kitchen by installing them under cupboards or on shelves, for a stylish and particularly neat finish.

In addition to their aesthetics, RGB multicolor LED strips are also very energy efficient. They consume very little electricity and have a very long lifespan, making them a cost-effective option in the long run.
Type of LEDs used: SMD5050 in 12 or 24V
COB LED strips

COB (Chip On Board) led strips are a decorative lighting solution whose particularity is to diffuse a continuous light all along the strip, without the sometimes undesirable effect of dots. Thanks to the large number of leds per meter, usually from 480 to 680 leds per meter, which allows them to produce a homogeneous light.
These strips are mainly used for ambience because of their low light intensity.
Type of led used: COB in 12 or 24V
Powerful Ribbons

This category of LED strips is used for lighting large rooms or with a ceiling height greater than the normal 2.50 m.
Their brightness of 2000 Lumens per meter on average provides sufficient light intensity for a large living room, office or workshop requiring strong light for precision work.
It is preferable to use them in indirect lighting (oriented towards the ceiling) to avoid glare, or directly to light a worktop or a workbench for example.
Type of led used: SMD2835 in 12 or 24V
Ultra-powerful Ribbons

These LED strips offer extreme brightness and are often used for stage lighting, halls, performance halls, shopping malls, museums or large rooms requiring high brightness.
They can also be used to illuminate outdoor spaces such as terraces or gardens.
It is preferable to use them in indirect lighting (oriented towards the ceiling) to avoid dazzling the public.
With a light intensity of 4000 Lumens per meter, these LED strips are the strongest lighting on the market.
Type of LEDs used: SMD2835 at 24V
Variable white LED strips

When you want white light, with the possibility of adjusting the color temperature, this led strip will meet your requirements.
It has 2 types of white LED diodes, which can be adjusted to produce different color temperatures, ranging from cold white, slightly bluish, to warm white, slightly yellow, to natural white which corresponds to the daylight.
It requires the use of a specific controller to vary the desired shade of white, according to your desires.
Thanks to its ability to produce different color temperatures, the variable white LED strip can adapt to all lighting needs. You can use cool white (7000 Kelvin) for a bright and energizing light, natural white (5000 Kelvin) for a pleasant and comfortable light, or warm white (2700 Kelvin) for a soft and soothing light.
It is of course possible to obtain a large number of intermediate shades, thanks to your remote control.
Type of LED used: SMD3528 or SMD2835 in 12 or 24V
RGB led strips + variable white

This is the most complete led strip, since it combines RGB color with variable white from cold white to warm white, allowing an extremely rich number of shades to be obtained.
It is thus possible to obtain both bright tones and pastel colors, enough to delight the most demanding.
The strip has 5-in-1 diodes offering red, green, blue, cold white and warm white.
It is the combination of these 3 elements that makes it possible to obtain a very precise color.
The use of a specific controller is required to drive this type of ribbon. Either by remote control, or by WiFi, or by Google and Alexa voice assistant, or even by DMX for use by entertainment professionals.
Type of LEDs used: SMD3838 and SMD2110 in 12 or 24V
LED strips with dynamic effects

Also called Magic, these led strips have the particularity of lighting only certain portions of the ribbon, thanks to their addressable leds, which makes it possible to obtain dynamic effects (in motion) allowing create chases, fade-outs and gradual fade-outs, water drop effects... the only constraint being the limit of your imagination.
Ideal for light entertainment in discotheques or for your evenings, these led strips can be controlled by controllers with remote controls, programmable and even controlled by the rhythm of the music.
Of course, the led strip can be controlled by DMX for total freedom of expression.
A real must for dynamic, colorful and always successful parties.
Type of LEDs used: SMD5050
IC WS2811 at 12V (3 leds per pixel)
IC WS2812 in 5V (1 led per pixel)
IC WS2815 at 12V (1 led per pixel)

Ultra-low consumption LED strips

These LED strips are designed to provide high luminosity while consuming very little energy (about half compared to conventional led strips).
They are ideal for applications where energy saving is a priority, such as lighting in the home or common areas, or in public spaces that remain on almost constantly.
With a yield of around 190 Lumens per Watt, energy consumption is almost halved compared to conventional LED strips of 90 to 100 Lumens per Watt.
An issue that is as ecological as it is economical, these LED strips are an ideal solution in the current context, with an energy bill almost halved.
Type of LEDs used: SMD2835 at 24V
Led Wall Washer LED Strips

These LED strips are designed to be glued directly to walls and ceilings, making them ideal for decorative lighting. They are often used to highlight historic buildings or buildings.
They are also used to achieve grazing light effects in bars, clubs and restaurants.
Type of leds used: SMD3035 + 24V optical lens
Black Light bands

These LED strips emit violet UV light to illuminate only light colors in a dark room.
This is the effect used by discotheques or Escape Games establishments for example.
Prefer a powerful ribbon (240 leds/m) to obtain the effect on a sufficient surface.
Type of LEDs used: SMD2835 at 24V
Infrared led strip

Infrared Illumination: These LED strips emit infrared light, which is barely visible to the human eye but can be detected by some electronic devices.
They are often used in security systems such as cameras to detect movement.
Available in 2 versions:
850 nanometer wavelength. The light is slightly visible but spreads over a long range.
Wavelength of 940 nanometers. The light is totally invisible but travels over a shorter distance.
If you need the camera to be completely concealed, choose the second version.
Type of LEDs used: SMD2835 infrared at 850 or 940 nm, at 24V
Sterilization tapes
They radically eliminate viruses, bacteria, mites, mites, molds, fungi and algae, thanks to the emission of ultraviolet rays from 260 to 285 nanometers.
This device is very effective and requires precautions for use which must be strictly followed:
Never look at the light source in operation. Ultraviolet can seriously damage the eyes, and irreversibly.
Do not stay in a room being sterilized. Ultraviolet can damage the skin and especially the eyes.
Do not leave pets in premises when the ribbon is in operation.
Do not use this led strip for aquarium lighting. UVC rays are harmful to fish, plants and corals. It can be used for water sterilization, in addition to water filtration.
Do not leave plants in a room during disinfection.
Ventilate treated room well after use due to ozone production.
The tape contains 8 UVA leds (visible violet color) and 24 UVC leds (not visible ultraviolet).
In operation, it will appear that three quarters of the leds are not lit due to the wavelength used in UV-C.
The UVA leds are present to show that the ribbon is in operation. It is simply a security to indicate that the device is working.
Type of LEDs used: SMD3535 UVA 395 at 400 nm and UVC 260 at 285 nm, at 24V
Led strips for Hydroponics and broad spectrum ribbons

They are specially designed for hydroponics, a method of growing plants above ground.
They are used to provide plants with the light they need to grow and develop optimally.
The light spectrum allows plants to grow faster while reducing water consumption.
They mainly use red (600 nanometer) and blue (450 nanometer).
Full spectrum LED strips work on plant and flower growth.
They are also used for the display of fruits, vegetables and flowers in shops because they do not distort the colors and make them more vivid.
They have an optimal color rendering: CRI 97.
Type of LEDs used: SMD5050 at 24V
Side-lit LED strips

The main feature of this tape is lateral lighting, i.e. from the side, and not from the front.
Classic LED strips cannot be bent laterally, which makes it impossible to make it describe rounded shapes for example.
The problem is solved with the side band which avoids cutting a standard ribbon into very small sections to make it follow a particular shape.
It is often used for automotive headlights as they will adapt to any shape.
Type of LED used: SMD335 in 12 or 24V
Neon LED strips

This is a variation of standard LED strips, designed to mimic the look of traditional neon while offering superior energy efficiency and longer life. They are increasingly popular for indoor and outdoor decorative lighting, especially in bars, clubs and restaurants.
LED neon strips are made from flexible PVC and feature high quality LEDs that cast a bright, even light. They are available in a wide range of colors and lengths, making them a versatile option for decorative lighting.
LED neons exist in 3 forms: Front, side or 360° lighting.
Consult our guide to choose the type of neon you will need.
Type of LED used: SMD2835 or SMD5050 in 12 or 24V
Zig-zag type LED strips

Called Zig-zag or S-shaped, they are a variant of traditional LED strips designed to follow a particular or rounded shape while providing front lighting.
They are especially popular for indoor and outdoor decorative lighting, especially for showcasing rounded shapes or curves in decorating designs, or signs in the shape of letters or objects.
Unlike classic led strips, they can be bent laterally, while having front lighting, to describe the shape you want.
Note however that they are only available in non-waterproof (IP20) because the silicone of the waterproof tapes would prevent the tape from bending laterally.
Type of LED used: SMD3528 or SMD2835 in 12 or 24V