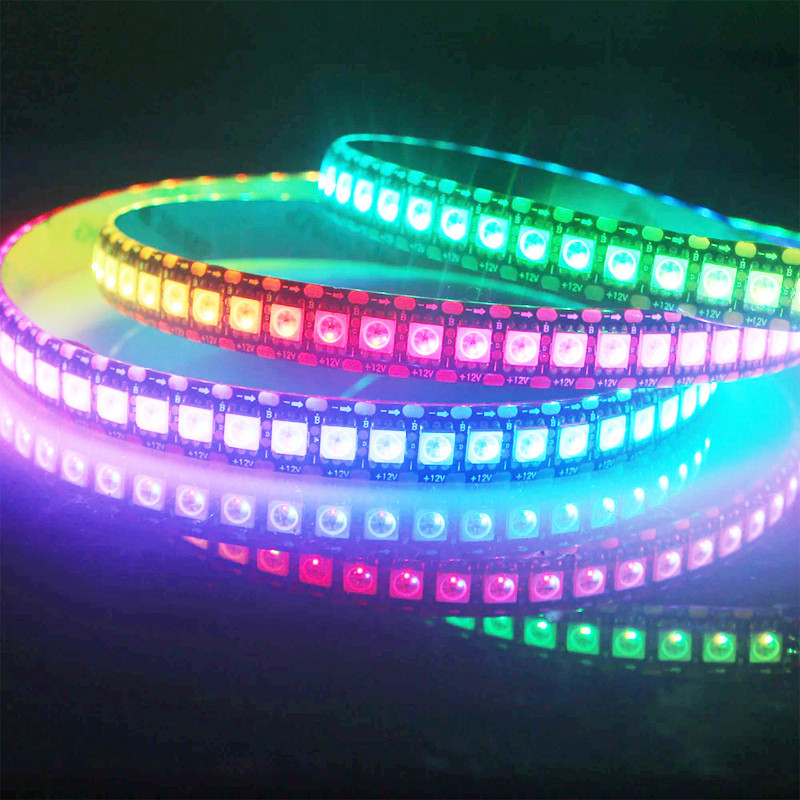  
Powerful multicolored led strip with dynamic effects 144 leds / m - 1 led / pixel
Ref : SMAGIC144P-IP20 [#82]
5 meter led strip Magic multicolor (dynamic effects) powerful 144 leds / m, 1 led / pixel, not waterproof
Accessories to compose your kit
 Led strips accessories
Products guaranteed for 3 or 5 years
Products shipped from France
Satisfied or refunded
Return within 14 days
Multicolored RGB led strip with dynamic effects (Magic) powerful allowing to achieve a good colored lighting with active animations.
It allows to obtain rainbow effects with gradients, chasers, scrolls and a whole multitude of other animations.
Its 144 leds per meter allows to obtain effects finer than with the other strips of 30 or 60 leds / m.
Depending on the controller used, you can make the ribbon react to the rhythm of the music, and even program your own animations, à la carte.
This model is driven by led (1 led per pixel) and gives smooth and precise animations.
The strip requires the use of a specific controller for Magic LED strips.
The tape is not waterproof and can only be used indoors, except bathrooms and kitchens.
The 12mm wide strip is powered by 12V DC and can be cut every 6.9mm.
Led strips of 5 meters can be chained between them thanks to the supplied clip connectors. The animation will extend over the total length of the connected strips, with however the limitation of the number of pixels managed by the chosen controller (see the characteristics of the controller according to your total length of strips).
Important: Be sure to supply each 5 meter ribbon with 12V on both sides (by connecting them directly to the power supply) independently of the controller. See the connection photo.
Compose your ready-to-use kit
Ribbon only

For the ribbon to work, you must have a minimum 12V 200W power supply . If you don't already have one, you need to add a power supply to the must-have accessories. Otherwise, you can purchase the ribbon on its own.
Power supply + ribbon kit
+
Minimal kit to operate your led strip. It connects to the 230V sector and the led strip to the 12 / 24V output of the power supply.
Add the power supply in the list of accessories.
Power supply + controller + ribbon kit
+ +
To compose this kit, you must add to the accessories:

- 1 power supply
- 1 dynamic effects controller 300 programs with remote control

You will get a complete kit supplied with a remote control to turn on, off and vary the light intensity and change the animations.
Power supply kit + Wifi dimmer + ribbon
+ +
To compose this kit, you must add to the accessories:

- 1 power supply
- 1 WiFi dynamic effects controller with remote control

With this complete kit, you will be able to turn on, off, vary the light intensity, select the animations, compose your programs, operate the ribbon to the rhythm of the music, with the remote control, in Wifi or with Google and Alexa voice assistants.
Power supply kit + DMX dimmer + ribbon
+ +
To compose this kit, you must add to the accessories:

- 1 power supply
- 1 DMX controller for dynamic effect led tape

Complete kit working in DMX (except console). The DMX controller allows you to control the led strip, pixel by pixel, in order to obtain à la carte animations, according to the DMX sequences programmed on your console.
3 channels are needed to drive a single pixel, or 432 channels per meter for this ribbon.
LTech brand controller intended for professionals for intensive and durable use.
Choose waterproofing
IP20
Not waterproof. Suitable for indoor use (living rooms, bedrooms, verandas), except kitchens and bathrooms.
IP65
Resists water splashes and humid environments. Can be installed in a kitchen, bathroom or outdoors.
IP68
Submersible. Can be used in swimming pools, SPA or ponds.

Material guaranteed for 3 years.
| | |
| --- | --- |
| Supply voltage | 12V DC |
| Type of led | SMD5050 |
| CI type | WS2815 |
| Number of leds per meter | 144 |
| Number of CIs per meter | 144 |
| Number of leds per pixel | 1 |
| Colors | multicolor RGB |
| Brightness | 2500 Lumens per meter (in white) |
| Efficiency | 68 Lumens per Watt |
| Consumption | 39.25W per meter |
| Dimmable | Yes (PWM) |
| Attenuation | 2% after 6000 hours |
CRI
80
Lighting angle
120 °
Lifetime
50,000 hours (at 45 ° C)
Waterproofing
Not waterproof IP20
Dimensions
5000 x 12 x 2 mm
Cutout
Every 6.9 mm
Temperature range
- 25 to 45 ° C
PCB
1 oz (35u) copper
Adhesive
3M VHB
Certifications
CE, RoHS
EN55015: 2013 / A1: 2015
EN61547: 2009
EN61000-3-2: 2014
EN61000-3-3: 2013
Guarantee
3 years
Choosing a led strip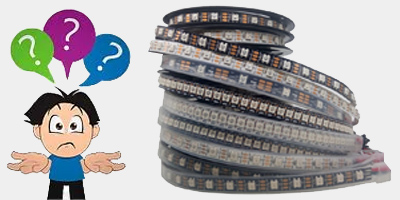 How to choose the led strip best suited to your needs?
To quickly and easily find the led strip that best suits
your lighting project, consult our guide