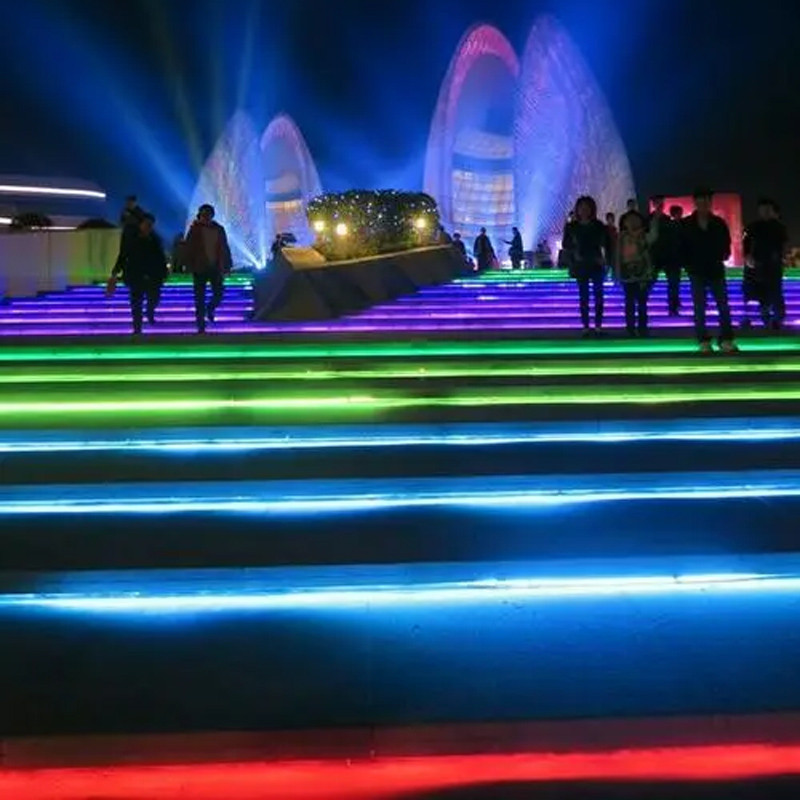  
Multi-color led strip RGB + white variable 60 leds / m 5-in-1 780 Lumens / m waterproof
Ref : SRGBCCT60-IP65 [#68]
Led strip of 5 meters 12V multicolored RGB + white variable 60 leds / m 5-in-1 780 Lumens / m, waterproof IP65
Accessories to compose your kit
 Led strips accessories
Products guaranteed for 3 or 5 years
Products shipped from France
Satisfied or refunded
Return within 14 days
Led strip multicolored RGB + variable white CCT allowing to achieve colored mood lighting or with the desired shade of white of a kitchen, a bathroom or a terrace.
The mixture of RGB and variable white allows to obtain an infinite number of tints and colors.
The strip requires the use of an RGB + CCT controller to adjust the color, white tint and light intensity.
The tape is waterproof and can be used outdoors or in water features, except swimming pools, pools and jacuzzi.
The 12mm wide strip is powered by 12V DC and can be cut every 50mm.
Compose your ready-to-use kit
Ribbon only

For the ribbon to work, you must have a minimum 12V 110W power supply . If you don't already have one, you need to add a power supply to the must-have accessories. Otherwise, you can purchase the ribbon on its own.
Power supply + ribbon kit
+
Minimal kit to operate your led strip. It connects to the 230V sector and the led strip to the 12 / 24V output of the power supply.
Add the power supply in the list of accessories.
Power supply + controller + ribbon kit
+ +
To compose this kit, you must add to the accessories:

- 1 power supply
- 1 RGB + CCT controller with remote control

You will get a complete kit supplied with a remote control to turn on, off and vary the light intensity using the radio-frequency remote control.
Power supply kit + Wifi dimmer + ribbon
+ +
To compose this kit, you must add to the accessories:

- 1 power supply
- 1 Wifi controller

With this complete kit, you can switch on, off and vary the light intensity in Wifi using your phone or tablet.
Power supply kit + DMX dimmer + ribbon
+ +
To compose this kit, you must add to the accessories:

- 1 power supply
- 1 RGB DMX controller

Complete kit working in DMX (except console). The DMX controller allows you to turn on, off and vary the light intensity, colors and shades of white according to the signal sent by your DMX console. 5 channels are required to drive the led strip.
LTech brand controller intended for professionals for intensive and durable use .
Choose waterproofing
IP20
Not waterproof. Suitable for indoor use (living rooms, bedrooms, verandas), except kitchens and bathrooms.
IP65
Resists water splashes and humid environments. Can be installed in a kitchen, bathroom or outdoors.
IP68
Submersible. Can be used in swimming pools, SPA or ponds.

Material guaranteed for 5 years.
| | |
| --- | --- |
| Supply voltage | 12V DC |
| Type of led | SMD5050 |
| Number of leds per meter | 60 leds 5 in 1 |
| Colors | multicolor RGB + variable white |
| Brightness | 780 Lumens per meter (RGB in white + cool white + warm white) |
| Efficiency | 46 Lumens per Watt |
| Consumption | 16.8W per meter |
| Dimmable | Yes (PWM) |
| Attenuation | 2% after 6000 hours |
| CRI | 80 |
Lighting angle
120 °
Lifetime
50,000 hours (at 45 ° C)
Waterproofing
Waterproof IP65
Dimensions
5000 x 12 x 3 mm
Cutout
Every 50 mm
Temperature range
- 25 to 45 ° C
PCB
1 oz (35u) copper
Adhesive
3M VHB
Certifications
CE, RoHS
EN55015: 2013 / A1: 2015
EN61547: 2009
EN61000-3-2: 2014
EN61000-3-3: 2013
Guarantee
5 years
Las cintas RGB multicolor + blanco variable (RGBCCT)
Esta tira requiere un controlador variable RGB + blanco para funcionar. Te permite encender, apagar y variar la intensidad de la luz, los colores así como el matiz del blanco.
Los 6 hilos, negro (+), rojo (R), verde (G), azul (B), amarillo (blanco cálido/WW) y blanco (blanco frío/CW) se conectan de la siguiente manera: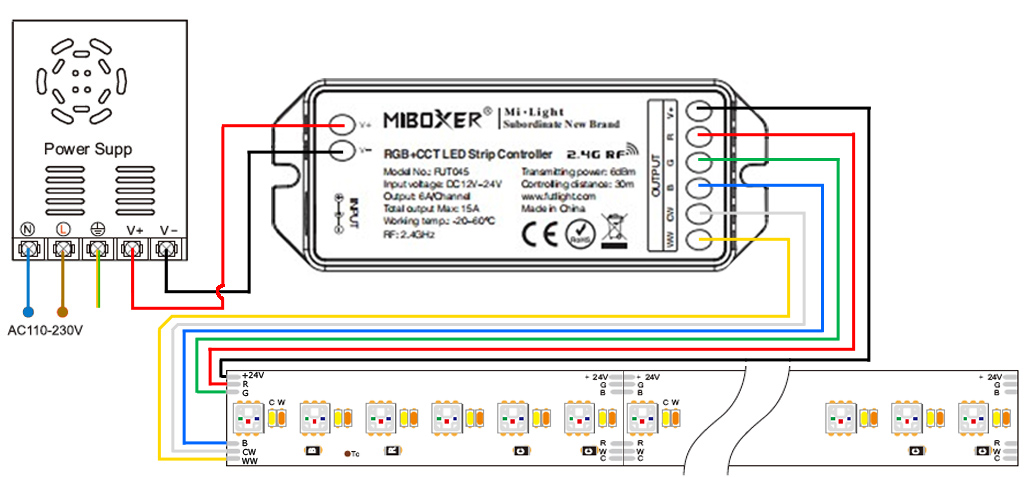 Esquema de cableado para varias tiras cuya longitud total supere los 5 metros. El cable utilizado es de 6 hilos (+, rojo (R), verde (G), azul (B), blanco frío (CW) y blanco cálido (WW).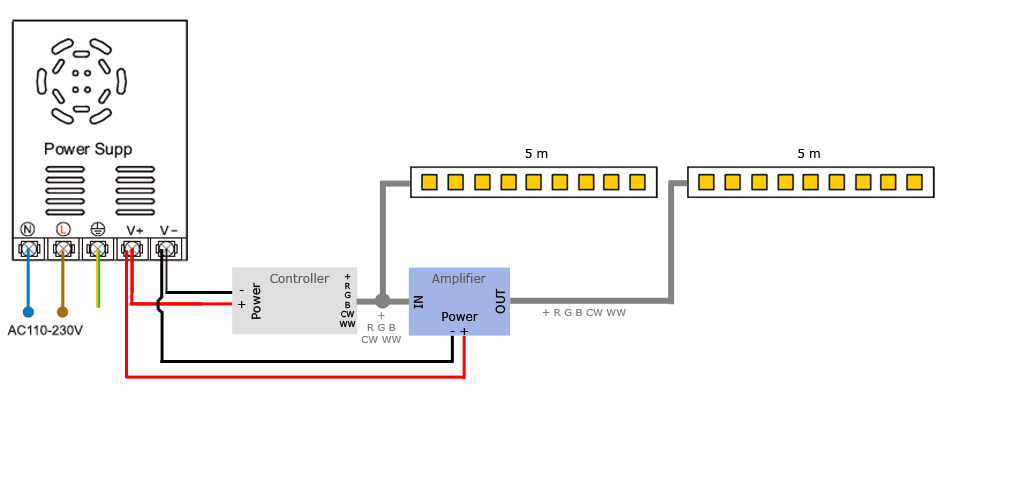 Precauciones a tener en cuenta al manipular e instalar una cinta led
Las tiras de led se pueden doblar longitudinalmente describiendo un radio de al menos 5 cm.
En ningún caso se podrán plegar hacia los lados.
Si tiene que hacer ángulos de 90°, es imprescindible cortar la cinta en secciones y conectarlas, ya sea con un conector de ángulo adecuado, o mejor, soldando cable flexible (cinta plana) entre las 2 secciones.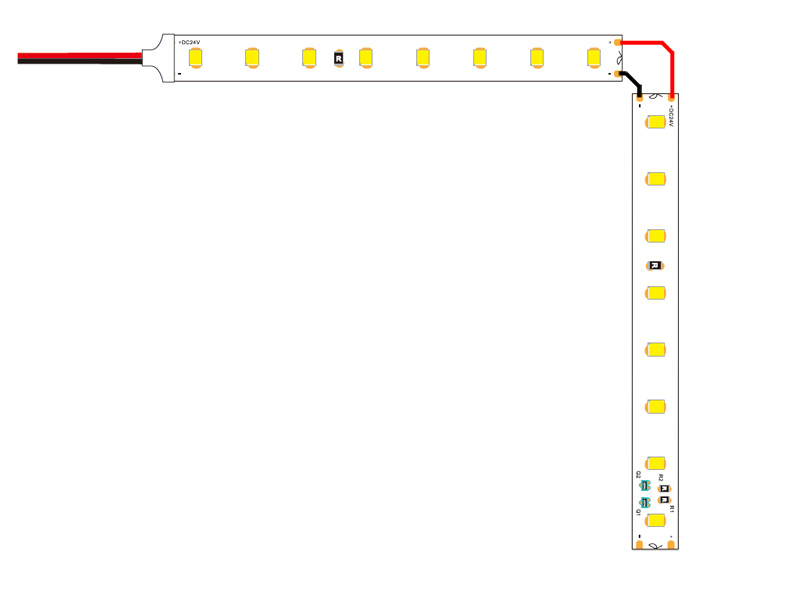 No doble las tiras de led ni las someta a distorsión: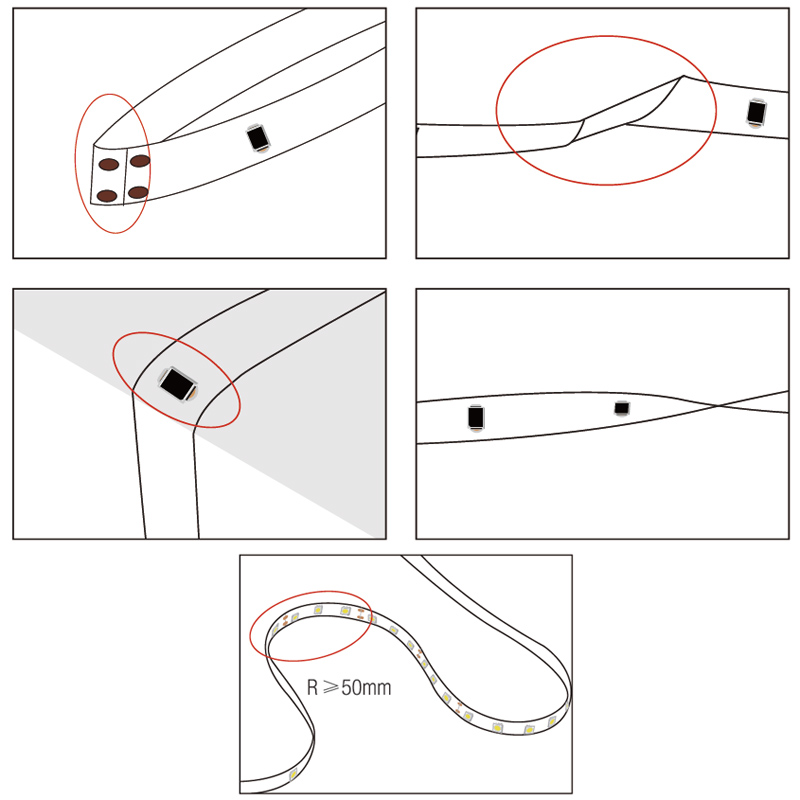 Choosing a led strip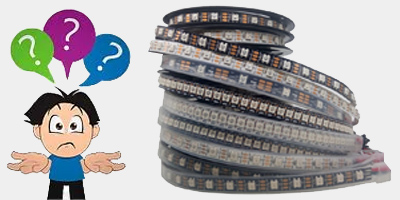 How to choose the led strip best suited to your needs?
To quickly and easily find the led strip that best suits
your lighting project, consult our guide