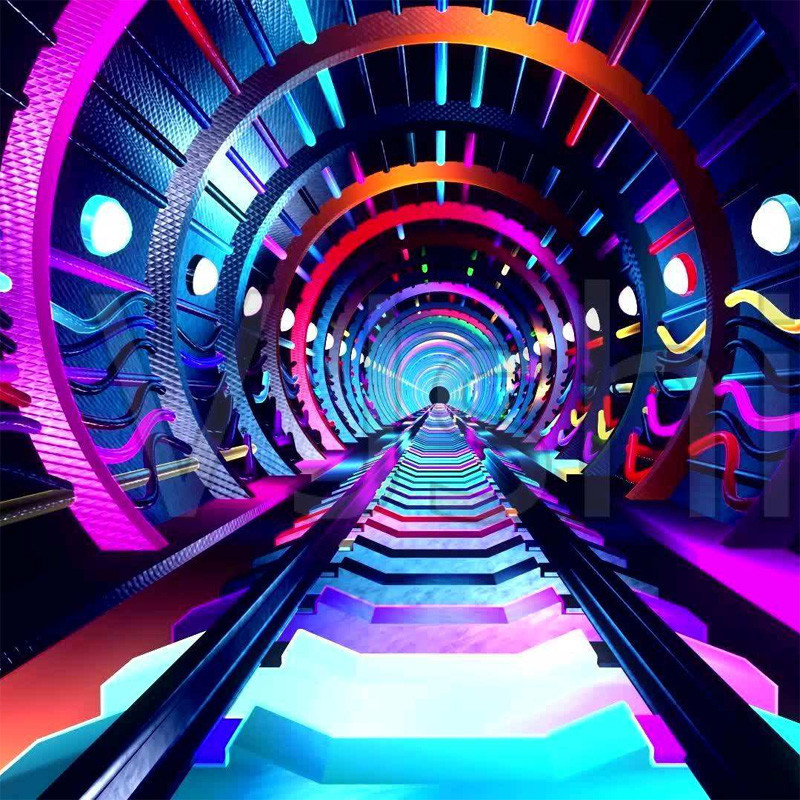  
Multicolor + white flexible neon 25 x 12 mm 60 leds/m 769 Lumens/m with lateral lighting
Ref : NRGBW25X12-60-IP65 [#111]
5 meter RGBW flexible neon, 25 x 12 mm, 60 leds/m, 769 Lumens/m with side lighting, IP65 waterproof
Accessories to compose your kit
 Led strips accessories
Products guaranteed for 3 or 5 years
Products shipped from France
Satisfied or refunded
Return within 14 days
Flexible neon used for colorful mood lighting or side lighting, allowing you to bend the ribbon to make it describe the shapes you want.
The illumination width is 12 mm. The light is relatively well distributed thanks to the opaque structure of the neon.
This type of neon is used for signs or artistic decoration with free forms.
Flexible neon lights do not have double faces. They should be fixed with the clips provided.
The strip is powered by 24V DC and can be cut in groups of 3 leds, i.e. every 10 cm.
Waterproof IP65, it can be used outdoors without any problem.
The RGBW neon requires the use of RGBW controllers (see Kits).
Compose your kit ready to use
Strip only

For the ribbon to work, you must have a power supply 24V 120W minimum. If you do not already have one, you must add a power supply to the essential accessories. Otherwise, you can acquire the ribbon alone.
Power supply kit + ribbon
+
Minimal kit to make your led strip work. It connects to the 230V mains and the led strip to the 12/24V output of the power supply.
Add the power supply to the list of accessories.
Kit power supply + drive + ribbon
+ +
To compose this kit, you must add to the accessories:

- 1 power supply
- 1 dimmer with remote control

You will get a complete kit supplied with a remote control to turn on, off and vary the light intensity using the radio-frequency remote control.
Power supply kit + Wifi dimmer + ribbon
+ +
To compose this kit, you must add to the accessories:

- 1 power supply
- 1 WiFi dimmer

With this complete kit, you can turn on, turn off and vary the light intensity in Wifi using your phone or tablet.
Power supply kit + DMX dimmer + ribbon
+ +
To compose this kit, you must add to the accessories:

- 1 power supply
- 1 DMX dimmer

Complete kit operating in DMX (excluding console). The DMX controller allows you to turn on, off and vary the light intensity according to the signal sent by your DMX console. Only 1 channel is required to drive the led strip.
LTech brand controller intended for professionals for intensive and long-lasting use.
Choose waterproofing
IP20
Not waterproof. Suitable for indoor use (living rooms, bedrooms, verandas), excluding kitchens and bathrooms.
IP65
Resists splashing water and damp environments. Can be installed in a kitchen, bathroom or outdoors.
IP68
Immersible. Can be used in swimming pools, SPA or ponds.

Equipment guaranteed for 3 years intended for professionals and individuals for intensive use.
| | |
| --- | --- |
| Power supply voltage | 24V DC |
| Led type | SMD 5050 |
| Number of leds per meter | 60 |
| Colors | Multicolor + White (RGBW) |
| Brightness | 769 Lumens per meter (in white) |
| Efficacy | 43 Lumens per Watt |
| Consumption | 18W per meter |
| Dimmable | Yes (PWM) |
| Attenuation | 2% after 6000 hours |
| CRI | 80 |
| Min curvature diameter | 20cm |
Illumination angle
120°
Lifespan
50000 hours (at 45°C)
Sealing
Waterproof IP65
Dimensions
5000x25x12mm
Cut
Every 10cm
Temperature range
-25 to 60°C
PCB
1oz (35u) copper
Fixings
4 clips supplied per meter
Certifications
CE, RoHS
EN IEC55015:2019
EN IEC 61000-3-2:2019
EN 61000-3-3:2013+A1:2019
EN 61547:2009
EN 60598-2-21:2015
EN 60598-1:2015+A1:2018
EN 62471:2008
EN 62493:2015
EN IEC 62031:2020
Warranty
3 years
Flexible neon lights with side lighting
This type of ribbon called Side View is the most common. It can only be curled lengthwise, but with lighting on the side.
It allows you to form letters for signs, describe shapes and curves, according to your needs.
Efficacy (Lumens/W output) and luminosity are much worse than for front-lit neon lights.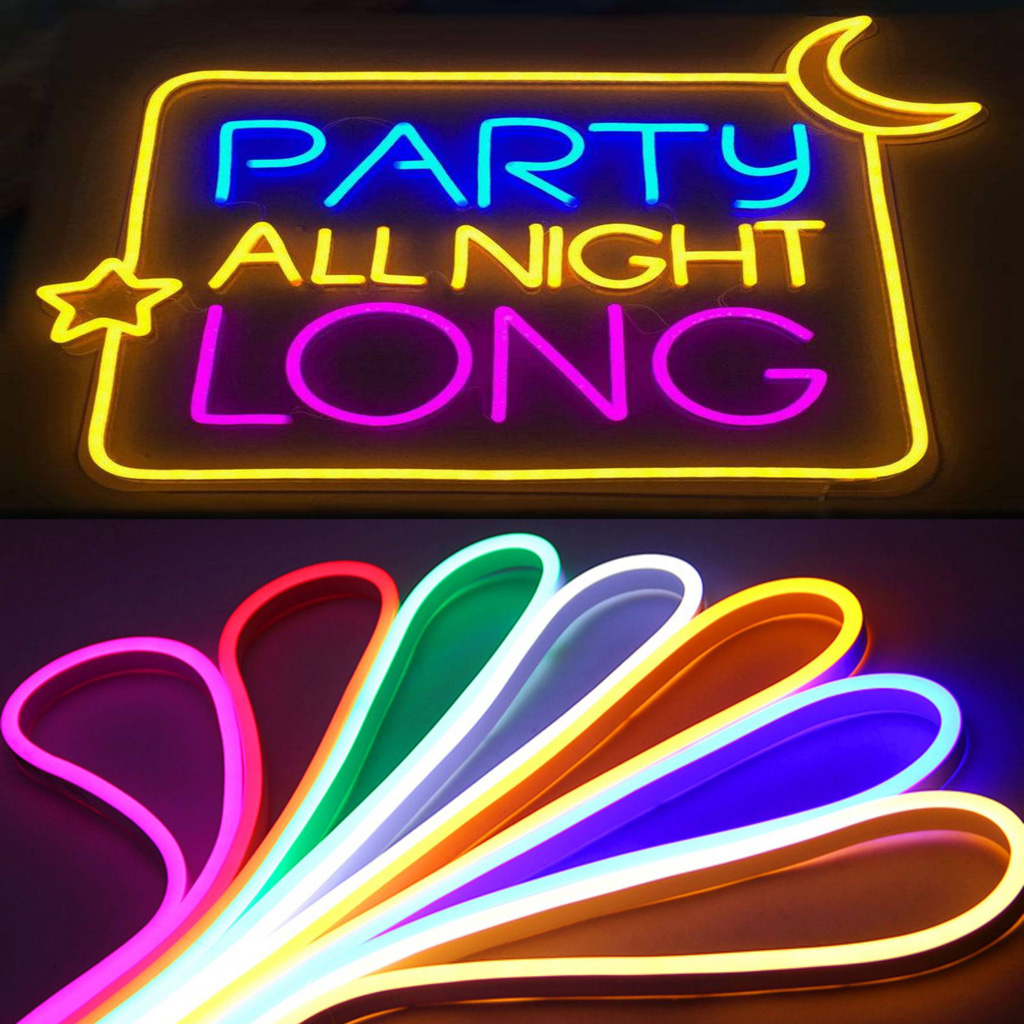 Wiring white and single color ribbons
These headbands, the simplest, have only 2 wires (+ and -).
They can be connected directly to the 12 or 24V power supply. In this case, the wall switch in your home will be used to turn the lighting on and off.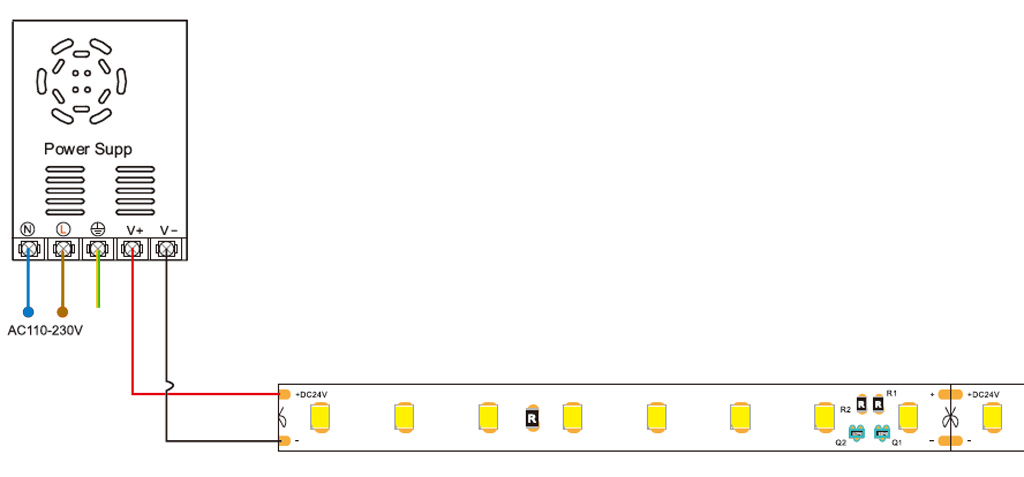 They can be paired with a dimmer to turn on, off and vary the brightness with a remote control.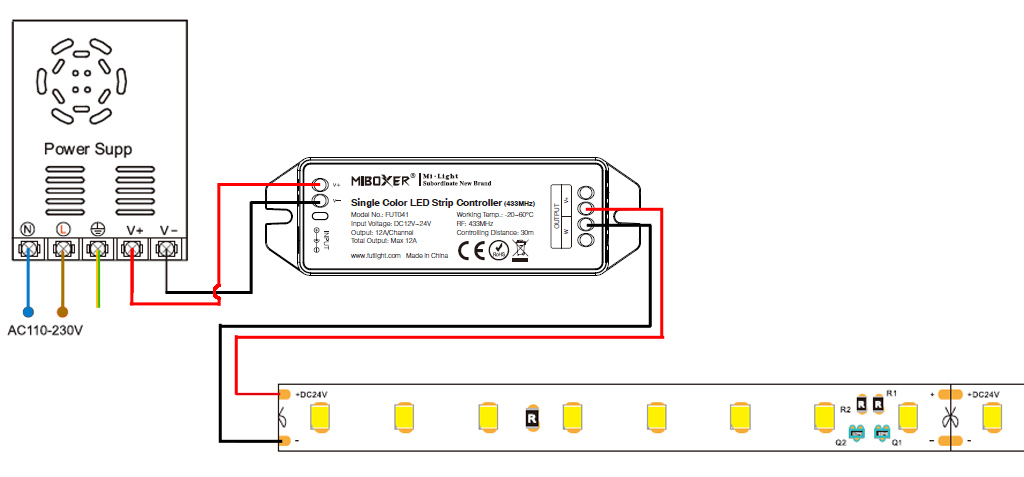 With the exception of certain models (specified in the product sheet), LED strips can only have a maximum length of 5 meters.
Beyond this length, there would be a loss of light intensity after the first 5 meters.
To overcome this, it is possible to arrange several lengths of 5 meters (or less), one after the other, by connecting them in parallel to the power supply or the controller.

Here is the wiring diagram of multiple strips with the use of a dimmer. The latter will act on all the ribbons, including those connected after the amplifier.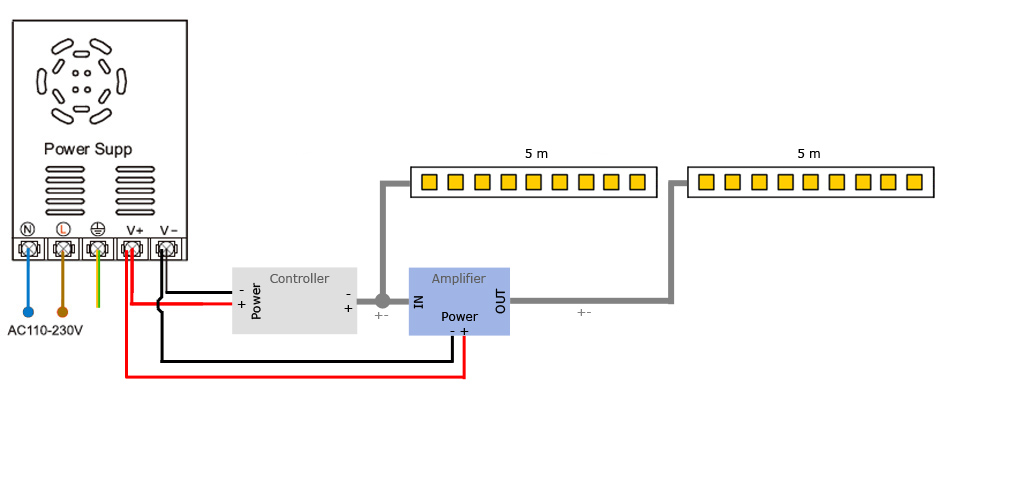 Precautions to take when handling and installing a led strip
The led strips can be curved lengthwise by describing a minimum radius of 10 cm.
Under no circumstances can they be folded sideways.
If you need to make 90° angles, it is imperative to cut the tape into sections and connect them, either with a suitable angle connector, or better, by welding flexible cable (flat cable) between the 2 sections.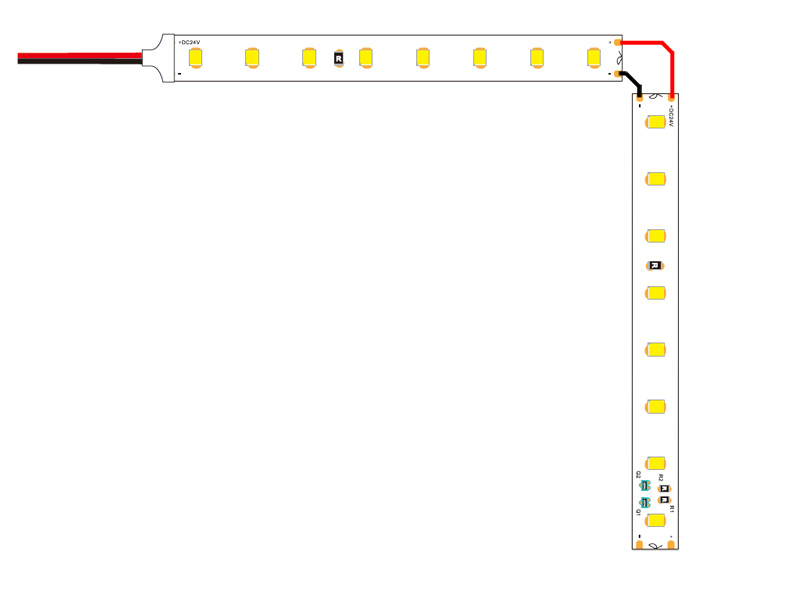 Do not bend the led strips or distort them: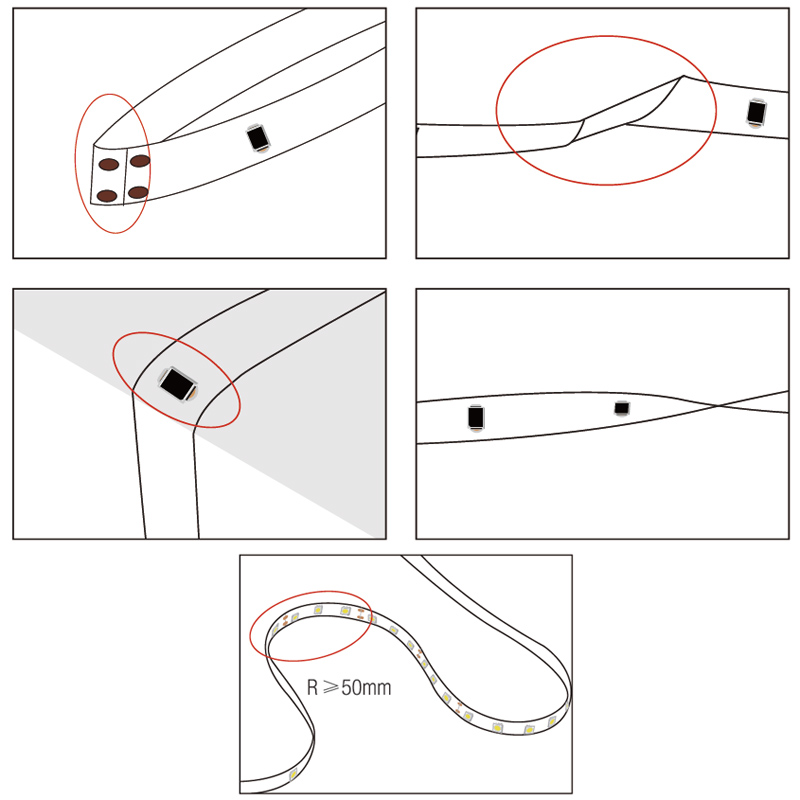 Choosing a led strip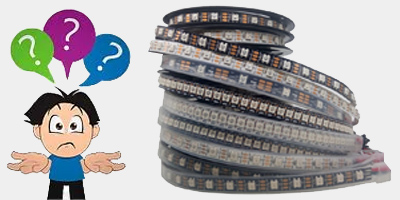 How to choose the led strip best suited to your needs?
To quickly and easily find the led strip that best suits
your lighting project, consult our guide